In your home
We're making homes great across Scotland. Check out the big-money investment in your community.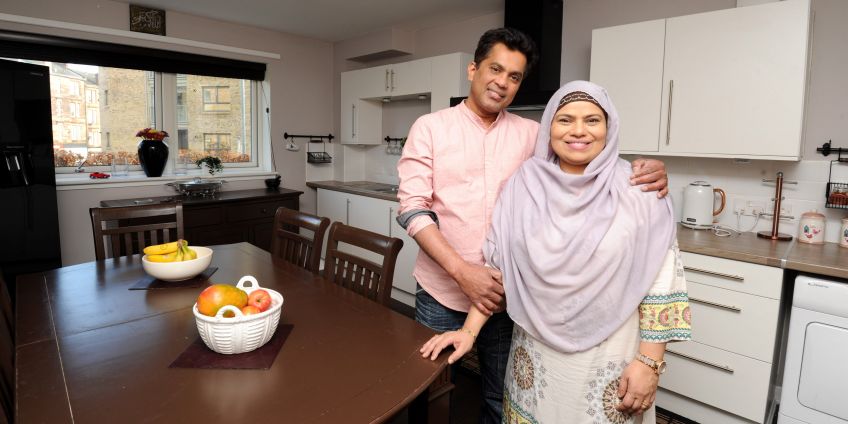 We're investing more than £3 million transforming your homes to make them warmer and better in every way.

Click on your area below and read about the different ways we are improving Loretto homes.
Falkirk
| Area | Improvements | Cost | Number of homes | Dates |
| --- | --- | --- | --- | --- |
| Burnside Terrace and Burnside Court, Falkirk | New kitchens and boilers | £297,000 | 56 | May 2017 |
| Inchyra Place, Grangemouth | New windows and external doors | £355,000 | 55 | May 2017 |
Glasgow
| Area | Improvements | Cost | Number of homes | Dates |
| --- | --- | --- | --- | --- |
| Moffat Street, Gorbals | New kitchens and boilers | £140,000 | 26 | June 2017 |
| Ryehill Road and Quarrywood, Barmulloch | New kitchens and boilers | £92,000 | 21 | Sep 2016 |
| Maryhill Road, Maryhill | New kitchens and bathrooms | £118,000 | 31 | Aug 2016 |
| Keppochhill Road, Springburn | New kitchens | £117,000 | 27 | Jan 2016 |
Renfrewshire
| Area | Improvements | Cost | Number of homes | Dates |
| --- | --- | --- | --- | --- |
| Thomson Street and Graham Street, Johnstone | New windows and rear doors at block No.8 | £34,000 | 26 | Aug 2017 |
| Thomson Street and Graham Street, Johnstone | New kitchens and boilers | £135,000 | 26 | Feb 2017 |
| Houston Court and Fulbar Street, Renfrew | Window upgrades and new bathrooms | £81,000 | 19 | Oct 2016 |
| Ryewraes Road, Linwood | New external doors | £60,000 | 30 | Sep 2016 |
| Ryewraes Road, Linwood | New kitchens and boilers | £130,000 | 30 | Jan 2016 |
| Thomson Street, Graham Street and Buchanan Way, Johnstone | New kitchens and boilers | £186,000 | 42 | Jan 2016 |
| Queen Street, Paisley | New kitchens and boilers | £167,000 | 28 | Aug 2017 |
| Carlile Place, New Sneddon Street and Back Sneddon Street, Paisley | New kitchens and boilers | £200,000 | 39 | Aug 2017 |
| Broomlands Court, Paisley | New kitchens | £130,000 | 34 | Jan 2016 |
| Muirhead and Stirling Drive | New windows and external doors | £130,000 | 31 | Nov 2017 |
North Lanarkshire
| Area | Improvements | Cost | Number of homes | Dates |
| --- | --- | --- | --- | --- |
| St James Way, Coatbridge | New external doors | £55,000 | 48 | Feb 2017 |
| Ladysmith Street, English Street and McGregor Street, Craigneuk | New bathrooms | £45,000 | 39 | Oct 2015 |
| St James Way, Coatbridge | New bathrooms | £75,000 | 48 | Nov 2015 |
South Lanarkshire
| Area | Improvements | Cost | Number of homes | Dates |
| --- | --- | --- | --- | --- |
| Fergusson Place, East Kilbride | New external doors, windows and upgrades to porch areas | £162,000 | 22 | Aug 2017 |
| Church Lane and Union Street, Carluke | New kitchens and boilers | £132,000 | 22 | Feb 2017 |
| Mill Road, Hamilton | New kitchens and boilers | £163,000 | 30 | Feb 2016 |
| Smyllum Road, Lanark | New kitchens | £126,000 | 35 | Jan 2016 |